June 3, 2019
CITROËN POCKET YET ANOTHER PODIUM!
53rd Rally Portugal (30 May – 2 June)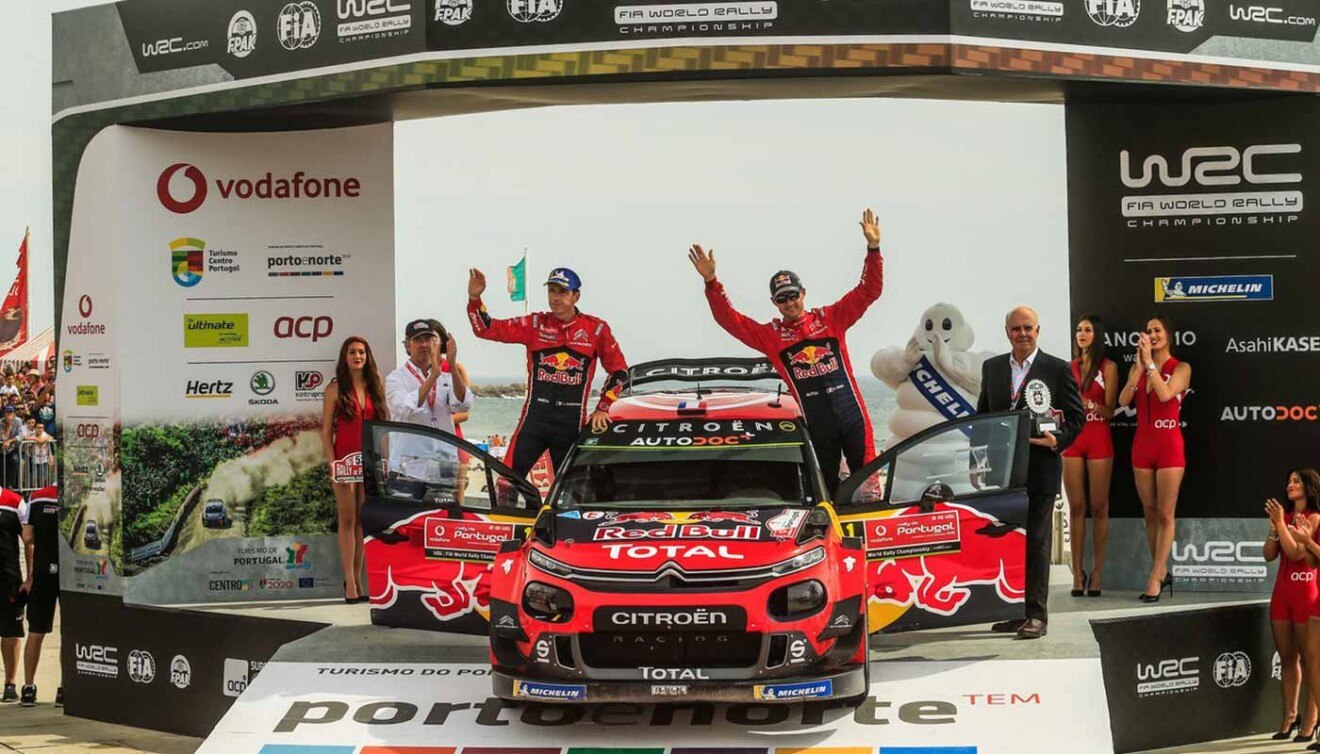 With their chances of pushing for the win compromised by their successive road positions, Sébastien Ogier and Julien Ingrassia nonetheless refused to give up. Their never-say-die attitude was justly rewarded with their sixth podium of the season, the Citroën Total World Rally Team's seventh top-three finish in as many rounds. Equally deserving of a good result, Esapekka Lappi and Janne Ferm were unfortunately caught out in the closing stages with the finish in sight.
Sébastien Ogier and Julien Ingrassia went into Sunday's final leg, which covers just 52 kilometres and is well known to all the crews, with slim chances of making up the 11.8 second gap to the podium. The Citroën Total WRT's lead driver therefore focused on the Power Stage, and the bonus points available, whilst remaining ready to pounce if a rival crew should make a mistake under pressure. That is exactly what happened on the final stage, enabling the French duo to move up to third position, securing their sixth podium of the season – and Citroën Total WRT's seventh – after another intelligently crafted performance. With the five extra points earned for winning the Power Stage, Sébastien and Julien continue to lead the World Championship.
Coming into the Portugal round as leaders, and therefore forced to run first on the road, the six-time World Champions feared they would suffer, given the very loose, dry conditions seen in the recce. Sébastien and Julien managed, however, to produce a heroic performance on day one, reaching the end of day service in fifth place, just three seconds off the podium, having successfully gambled on tyre choice. Despite this, the difference in road position compared to the other podium contenders was so significant on Saturday that it prevented Sébastien and Julien from fighting in even conditions. This meant they began Sunday's final leg 11.8 seconds behind the third-placed crew.
Esapekka Lappi and Janne Ferm, who were just 2.3 seconds off fourth place after SS2, had also made a good start to the rally. Unfortunately, one of their tyres came loose after landing a jump (SS3) and the pair found themselves down in eighth overall at the end of day one. They then produced an impressive performance on Saturday's leg to climb to fifth overall, including three fourth fastest times, despite having spent two thirds of the day running in a tough second position on the road. Unfortunately, a minor error at the start of Sunday's leg (SS16) proved to be extremely costly. The pair turned slightly too sharply into a right-hand hairpin and ended up spinning and then rolling their C3 WRC. As they attempted to defend their fifth place on the next stage, they clipped a bank, damaged the rear left-hand suspension and had to retire within sight of the finish.